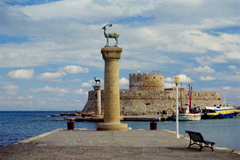 The island of Rhodes is located in the south-eastern Aegean, opposite the south-western side of Asia Minor. It is a fertile island with rich vegetation and forests in the center of the island. The climate is mild with average temperatures in the winter of 13 ° C and in summer 23-26 ° C. The sun shines almost all year.

Rhodes has been inhabited since the prehistoric era. The oldest cities on the island of LINDOS, IALYSOS and KAMIROS were united by 408 BC, Founded the city of Rhodes. In 1309 AD, the crucifixes of St. John (St. John) settled on the island and remained until the occupation of the island by the Turks in 1522. In 1912, the Italians settled down on the island down to the 2nd World War. On 7th March 1947, the island of Rhodes and the entire Dodecanese Greece are affiliated.

The city of Rhodes is located in the northern part of the island and consists of the Old Town and the New Town. The old town is surrounded by a 3.5 km long wall and is inhabited. The fortification wall is known as one of the best preserved works of the Middle Ages. The visitor can admire the Grand Duke Palace in the Knights Street, the archaeological museum, housed in the medieval tract of the Knights' Hospital, Byzantine churches and minarets.

The Nea Polis is a lively modern Greek city.

Here pulsates the bustle of the locals.

On the east side of the town is the MANDRAKI, a small port, mooring for small boats.

At the entrance of the harbor are two bronze deer.

According to tradition, the colossus of Rhodes, one of the seven worlds, was said to have stood here.

Across from the port are the market, the town administration, the courthouse, etc., all the splendid examples of Italian architecture.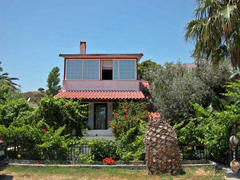 1 km from the lively village Afándou is located our place where lessons are taken, small bungalows , 10 minutes walk from the quiet, long beach Afándou.
We will learn Greek from Mo., 27.05.2019 to Fr., 07.06.2019 with a course of elementary, independent and competent language usage. The Sunday before and Saturday after the course are our arrival and departure days.
In the A1 and A2 we learn with the book "ΓΕΙΑ ΣΟΥ". Alternatively, the book "ΠΑΜΕ!" is available. In B1 to C1, we use the monolingual, tried and tested "ΤΑΞΙΔΙ ΣΤΗΝ ΕΛΛΑΔΑ" or "EΠΙΚΟΙΝΩΝΗΣΤΕ ΕΛΛΗΝΙΚΑ" or similar.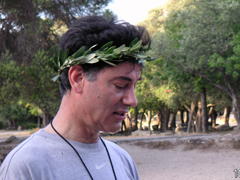 The classes take place from 9:30 to 13:00 Monday to Friday.

In the late afternoon we finish the day with the learning of Greek songs (17:30-19:00) three days a week. The teaching material is provided by us. Audio materials are also used in the courses. Outside the class we also undertake a joint country tour (Acropolis of Lindos and ancient Kamiros oa) or a hike in the beautiful surroundings (not included in the price).

Learn Greek, learn with the Greeks!

Subject to change.